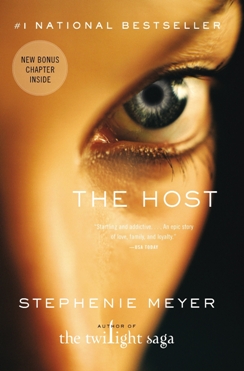 Synopsis
:
Melanie Stryder refuses to fade away.
Our world has been invaded by an unseen enemy. Humans become hosts for these invaders, their minds taken over while their bodies remain intact and continue their lives apparently unchanged. Most of humanity has succumbed.
When Melanie, one of the few remaining "wild" humans is captured, she is certain it is her end. Wanderer, the invading "soul" who has been given Melanie's body, was warned about the challenges of living inside a human: the overwhelming emotions, the glut of senses, the too vivid memories. But there was one difficulty Wanderer didn't expect: the former tenant of her body refusing to relinquish possession of her mind.
Wanderer probes Melanie's thoughts, hoping to discover the whereabouts of the remaining human resistance. Instead, Melanie fills Wanderer's mind with visions of the man Melanie loves—Jared, a human who still lives in hiding. Unable to separate herself from her body's desires, Wanderer begins to yearn for a man she has been tasked with exposing. When outside forces make Wanderer and Melanie unwilling allies, they set off on a dangerous and uncertain search for the man they both love.
Review:
I cannot believe I waited this long to read
The Host.
It was absolutely amazing. I was sucked into the story from page 1. Honestly, I could not put this book down until I was finished, and I did not want it to end. I had a couple sleepless nights because I was reading until I could not keep my eyes open any longer.
If you have not noticed, I am a huge Twilight fan. While reading
The Host,
I realized how much I missed Stephenie Meyer's way of writing. She may not be the best writer in the world, but the way she tells a story always draws me in. She is an amazing story teller. If I could, I would live in the worlds that Stephenie Meyer has created.
Even though Wanderer, or "Wanda" for short. has invaded Melanie's body, I could not help but love her. Two minds in one body was extremely interesting to read about. It was hard not to love both Melanie and Wanda. I wanted the best for both of them. Jared and Ian were so easy to fall for, but conflicting with the whole Melanie/Wanda situation. I definitely respected Melanie's unwillingness to give up her mind to Wanda completely. It made for an interesting story.
The Host
was a beautiful story. I absolutely loved it from beginning to end. It was so exciting and thrilling with some romance thrown in there. At times, it was heartbreaking and had me crying inside. Other times it had me laughing or had me on the edge of my seat hoping everything would turn out okay. I thought the storyline was unique. I recommend reading the bonus chapter if you can. It adds to the story in a perfect way.
Rating: 5/5
I am reviewing this book as a part of Dystopian August over at
Presenting Lenore
:
Swords are for fighting,