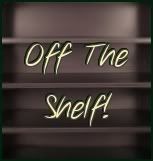 I recently discovered this reading challenge, which sets to start in 2011. I think it is the perfect challenge for me because I have so many books sitting on my shelf that I have not read yet.
Off The Shelf Challenge
is hosted by
BA Reading Challenges
. What you have to do if read books that you already own/have on your shelves that you have not had the chance to read yet.
I am going to aim for Challenge Level 4: On A Roll- with 50 books
I will list the books I read for this challenge here:
The Replacement by Brenna Yovanoff
The Long Weekend by Savita Kalhan
Night Star by Alyson Noel
Xombies Apocalypse Blues by Walter Greatshell
Infinite Days by Rebecca Maizel
The Naughty List by Suzanne Young
Swords are for fighting,