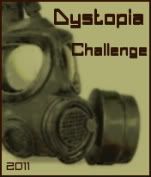 The Dystopia Challenge runs from January 1, 2011 to December 31, 2011 (click on the pic to sign up!). The goal is to read as many Dystopian books as you can in 2011. I love reading dystopian books, so I thought this would be a great challenge for me. I will update this post as I read books for this challenge.
Challenge Levels
Asocial– Choose 5 books to read
Contagion – Choose 15 books to read
Soldier – Choose 30 books to read
Drone – Choose 50 books to read
Conditioned – Choose 75 books to read
Brainwashed – Choose 76-125 books to read
Totalitarian – Choose 126-200 books to read
I am going to aim for the
Contagion Challenge Level
I hope I can complete this challenge!
Books read:
Hater by David Moody
XVI by Julia Karr
Warm Bodies by Isaac Marion
Across the Universe by Beth Revis
Xombies Apocalypse Blues by Walter Greatshell
Dark Parties by Sara Grant
Eat Slay Love by Jesse Petersen
Swords are for fighting,