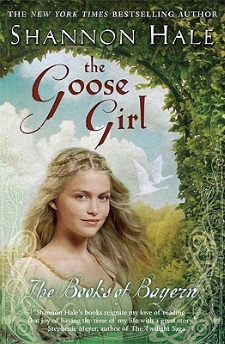 Synopsis
:
She can whisper to horses and communicate with birds, but the crown princess Ani has a difficult time finding her place in the royal family and measuring up to her imperial mother. When she is shipped off to a neighboring kingdom as a bride, her scheming entourage mounts a bloody mutiny to replace her with a jealous lady-in-waiting, Selia, and to allow an inner circle of guards more power in the new land. Barely escaping with her life, Ani disguises herself as a goose girl and wanders on the royal estate. Does she have the pluck to reclaim her rightful place? Get ready for a fine adventure tale full of danger, suspense, surprising twists, and a satisfying conclusion. The engaging plot can certainly carry the tale, but Hale's likable, introspective heroine makes this also a book about courage and justice in the face of overwhelming odds. The richly rendered, medieval folkloric setting adds to the charm.
Review:
The Goose Girl
was an amazing story. I love Shannon Hale's take on this fairy tale. It was definitely original and creative. The world of Bayern that she created was fantastic with its mythical feel. I definitely would not mind living in that world! I also enjoyed that a map was included in the beginning of the book, so the reader can follow Ani's journey.
When it came to the plot, I found it to be predictable. I knew pretty much exactly what was going to happen before it did. Nevertheless, this did not bother me. I still really enjoyed reading this book. There was one part that had me on the verge of tears because it was so sad, but everything works out in the end.
The Goose Girl
is full of adventure and suspense. It was definitely a fun read that sucked me right in. It kind of reminded me of
Graceling
by Kristin Cashore in some ways especially the parts where Ani was in the forest. It is a the first book in Shannon Hale's
The Books of Bayern
Series, so I am looking forward to reading the rest of her books.
Rating: 4.5/5
Swords are for fighting,