Waiting On Wednesday is a weekly event, hosted at
Breaking the Spine
, that spotlights upcoming releases that I am eagerly anticipating.
This week's Waiting on Wednesday pick is: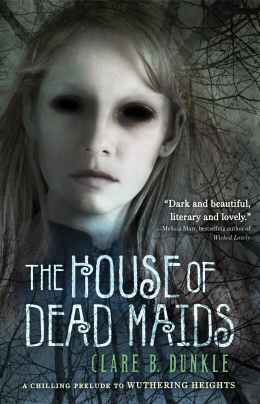 The House of Dead Maids
by Clare B. Dunkle
Publication Date: September 14, 2010
Young Tabby Aykroyd has been brought to the dusty mansion of Seldom House to be nursemaid to a foundling boy. He is a savage little creature, but the Yorkshire moors harbor far worse, as Tabby soon discovers. Why do scores of dead maids and masters haunt Seldom House with a jealous devotion that extends beyond the grave?

As Tabby struggles to escape the evil forces rising out of the land, she watches her young charge choose a different path. Long before he reaches the old farmhouse of Wuthering Heights, the boy who will become Heathcliff has doomed himself and any who try to befriend him.

A story with Heathcliff?! I am definitely intrigued. Wuthering Heights is one of my all time favorite books, so this story should be interesting.
What is your Waiting on Wednesday?
Swords are for fighting,